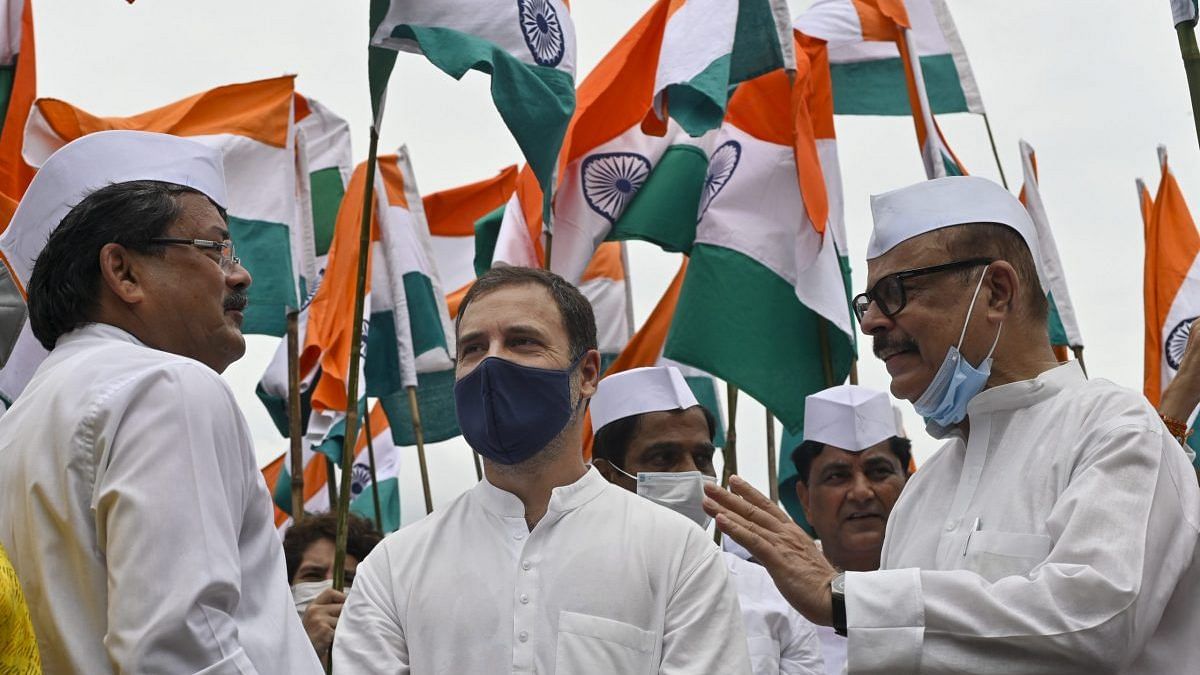 While Congress ponders the next president, the flip side of inner-party democracy
OOne of the great mysteries of Indian democracy that excites political observers and commentators is the lack of internal democracy in all political parties. While the Indian Republic has served very well with its passionate commitment to democratic ideals, the notion that all political parties have eschewed intra-party democracy confuses observers. Recent incidents in more mature democracies may provide some clues to explain this.
Internal competition in the US and UK
American President Joe Biden is helping former President Donald Trump. As absurd as it may sound, it is a true statement, although not the whole truth.
Both Biden's Democratic Party and Trump's Republican Party have robust intra-party democracy to select candidates and leaders through "primaries," in which registered party voters vote in an internal election. The Republican Party is now heavily divided between the pro-Trump faction and the anti-Trump faction. Her rival Democratic Party has sensed that general voters favor an anti-Trump candidate, and so it is in their best interest to face a pro-Trump candidate in the midterm elections. So they are explicitly pumping resources and money into pro-Trump candidates in the primaries to help them defeat the anti-Trumpers. Which seems to be working well so far. Eight out of eleven anti-Trump candidates lost. In short, a competing political party has meddled in its rival's internal democratic process and exploited it to its advantage.
"All your bills go up and up and up. Taxes have risen to their highest level in 70 years. We are being predicted a recession. You make promises you can't keep. The worst crisis in a generation. Why should the public trust you?"
These are public statements by senior Conservative Party leaders on the current economic situation in the UK. The only problem is that they are lashing out at their own party, which has been in power for 12 years! In fact, the opposition Labor Party released a video of all these statements entitled 'How do the Tories think they are fighting?'. This went viral, further embarrassing Conservatives.
These statements were made by Conservative leaders during a public debate among all candidates in an internal party election to choose the next party leader and thus the prime minister. First, the party's Members of Parliament (MP) select the top two candidates from among all candidates, and then nearly 150,000 registered members of the party vote to elect their next leader. For most, this is an attractive and healthy intra-party democratic process. Except that it can backfire, as was the case with the Conservative Party.
---
Also read: Rahul Gandhi embraces his lineage as 'victim family', calls out obsessive Congress haters
---
The complication
Healthy internal democracy implies a competitive electoral process to choose the next leader, which will inevitably lead to mudslinging and mere gossip about the state of the party and slandering other party leaders. All of this can be rich fodder for the opposition to tarnish the party's image with the general public.
The further complication is that MPs' preferred candidate differs from party member elections, which in turn may differ from the general public's preferred candidate. If the party's membership is at odds with the public, then such an internal election will produce a leader who may not be as popular with voters as another party leader, and will end up weakening rather than strengthening the party.
---
Also read: The race between Rishi Sunak and Priti Patel, the British Prime Minister, shows that this is a mature democracy. India isn't even close
---
The Indian riddle
The Congress Party in India is currently in the middle of an internal organizational process to elect its next president. Before you start insinuating motives, let me be clear that I fully support the idea of ​​an internal election to choose the next leader, if necessary. The risks of manipulation of an internal election by competing parties or external agents are real. As with the Conservative Party, there is an additional risk that the Congress Party's membership base or electoral college does not truly reflect the opinion of the general public. It can also further divide an already weakened party. However, even an internal vote by participating in an election spectacle can energize the base of the party and legitimize the election of the leader. This can be an invaluable asset for Congress in its current situation, far outweighing the risks.
The US and UK examples contrast the much-vaunted appeal of intra-party democracy, widely hailed as the holy grail. Indeed, British media commentators have been vocal in calling for the party's internal elections to be abolished and for a group of MPs to choose the next prime minister. But electing a party's leader when it is in power, as the Conservative Party is now doing, is entirely different from electing a leader when it is not in power. The legitimacy that a lively internal election bestows on an elected leader of a political party is a clear and powerful argument in its favour. There are several nuances, complexities, and "realpolitik" factors that must be considered before indulging in a public account of internal elections.
That notwithstanding, it is evident that intra-party democracy is neither the panacea for all the ills plaguing Indian politics, nor the magic pill to strengthen the institution of India's political parties, as is supposed to be the case. Different parties in India have to adopt and adapt practices to choose their leader according to their specific situation and time. There is no formula. Perhaps that is why in a still weak and fledgling democracy like India, where even elected leaders are bought and sold like stocks on a stock exchange, no political party has dared attempt full-fledged internal elections to elect their leaders, except for the Indian Youth Congress.
Praveen Chakravarty is a political economist and a high-ranking official the congress party. Views are personal.
(Edited by Neera Majumdar)